Our Network: Issue #43
Coverage on NFTs.

This is issue #43 of Our Network, the on-chain analytics newsletter that reaches nearly 6000 crypto investors, analysts, researchers, and builders every week 📈
---

This week our contributor analysts cover NFT projects: SuperRare, Axie Infinity, and Rarible.
① SuperRare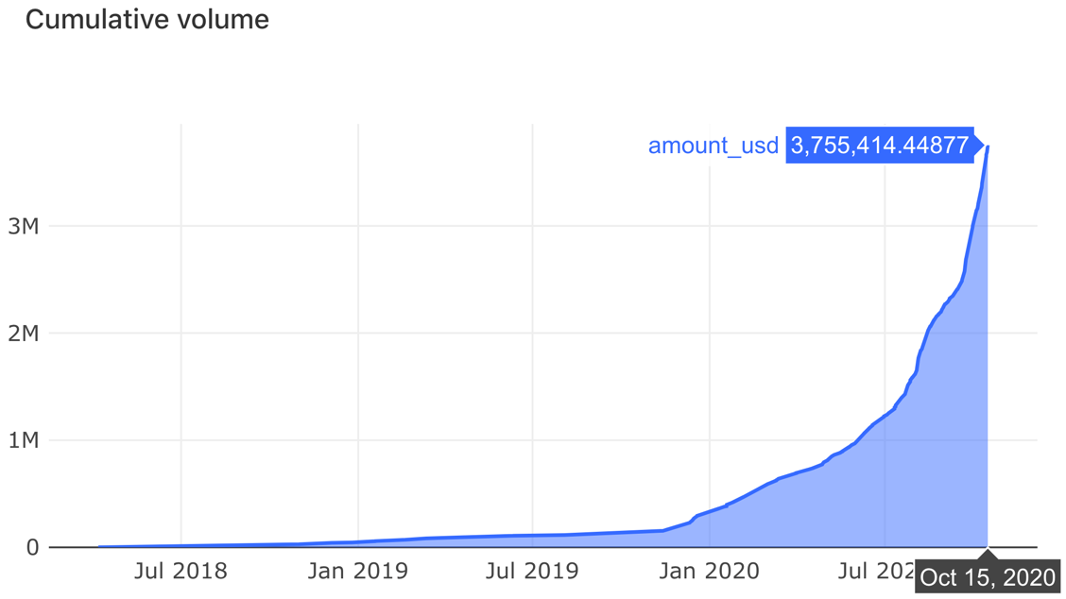 Digital art volume is growing 48% MoM, and SuperRare commands 83% of the market share. October is currently on pace to double September's record volume. Most of the volume is coming from primary market auctions, as collectors get into bidding wars for their favorite artists. (Source)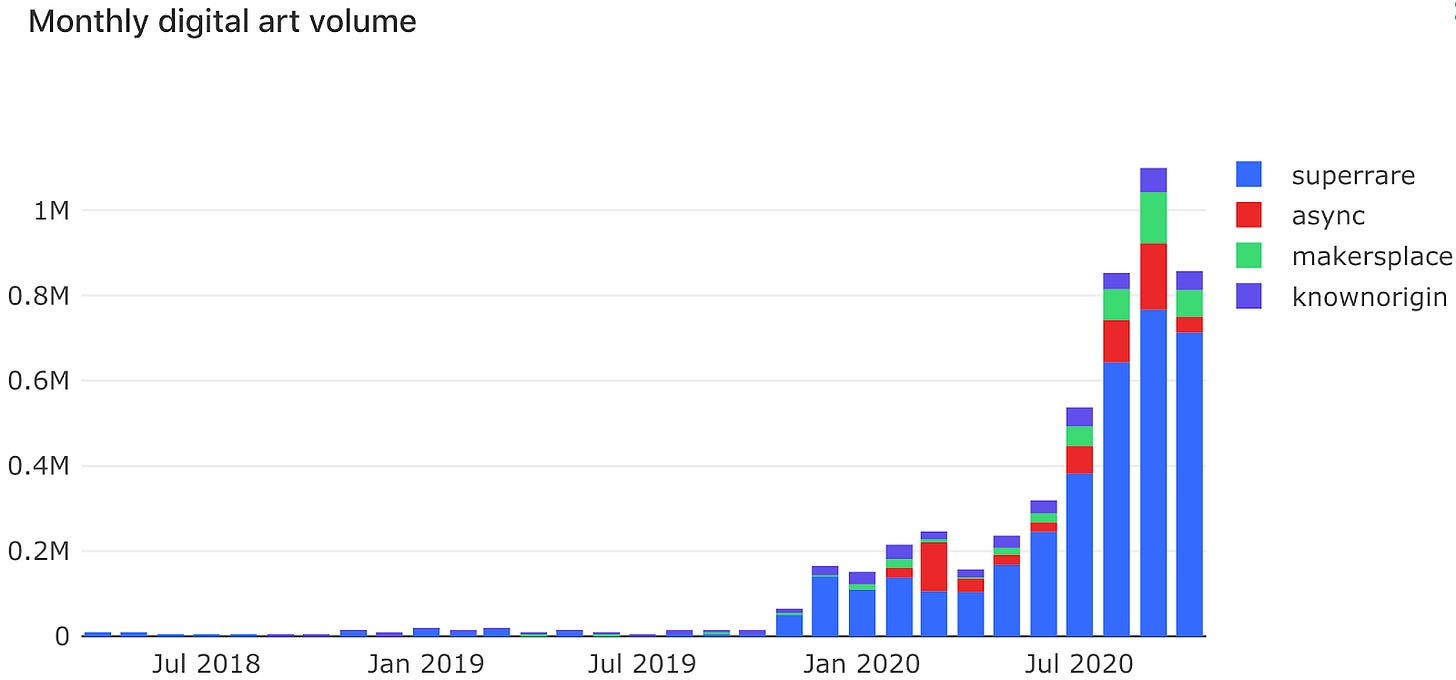 The two most successful SuperRare artists are Pak and Hackatao, who have earned $276k and $101k respectively in just this year alone. Digital art is a great revenue stream for artists because SuperRare only takes a 15% commission, much lower than 40-50% in the traditional art world, and artists earn a commission for every secondary sale which is only possible with NFTs. In total, artists have earned over $2.8M on SuperRare and collectors have earned $865k from secondary sales. (Source)

Digital art can be appealing to DeFi speculators. Below is a chart of historical art sales for Pak. Early collectors were able to acquire Pak pieces for just 3 ETH, which are now selling for 33-44 ETH. (Source)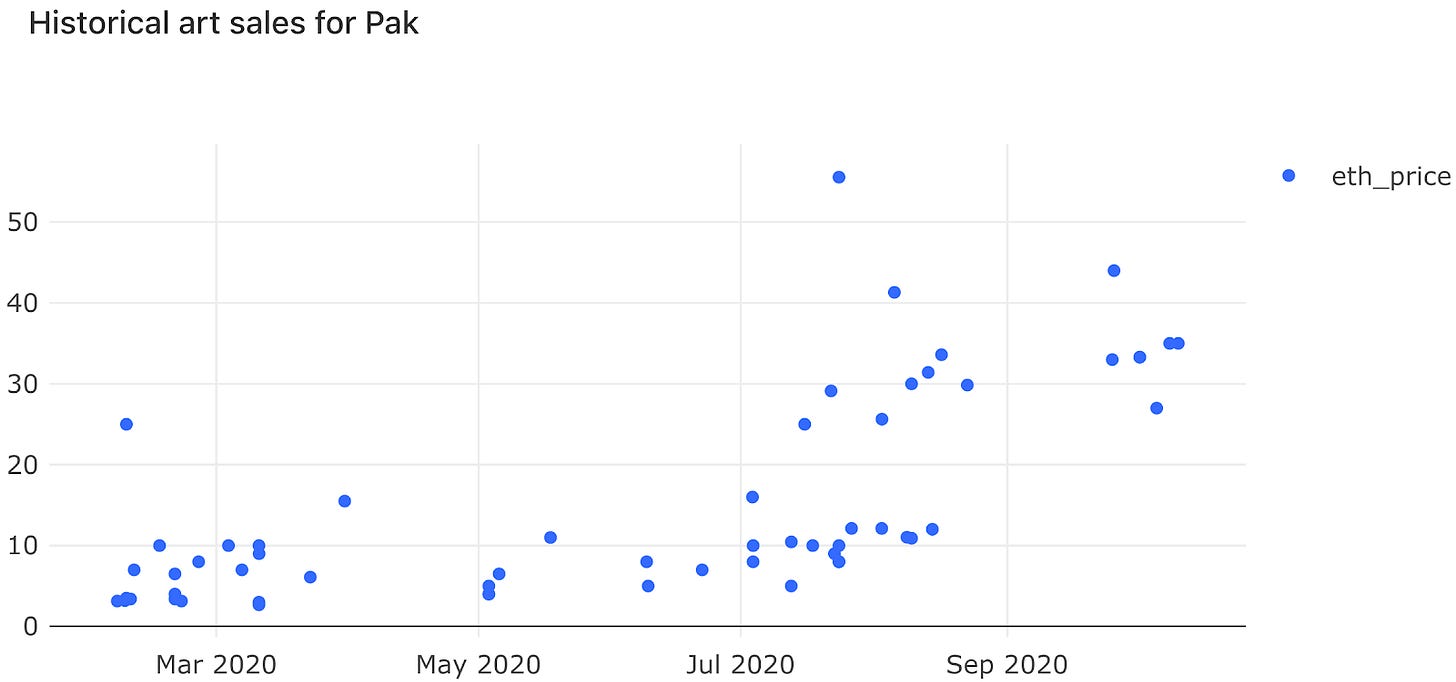 As a curated art gallery, SuperRare gets hundreds of artist applicants per week and has an acceptance rate of less than 10%. Some of the notable new artists include Esteban Diacono (who has 331k followers on Instagram) and musicians RAC and 3LAU. The RAC piece "Elephant Dreams" just set a new record for the most expensive artwork sold on SuperRare at $26,202 (70 ETH).
---
② Axie Infinity
With over 6,000 on-chain monthly active users, Axie Infinity is now the most-used game on Ethereum. MAUs have doubled in the past 6 weeks, with growth driven by players from developing economies such as Indonesia, the Philippines, and Venezuela. Axie demonstrates how the nature of work is evolving; work and play are merging in this digital-first playground/economic laboratory. MAUs spiked by 62% during the week of September 24th which coincided with Delphi Digital's acquisition of rare Mystic Axies.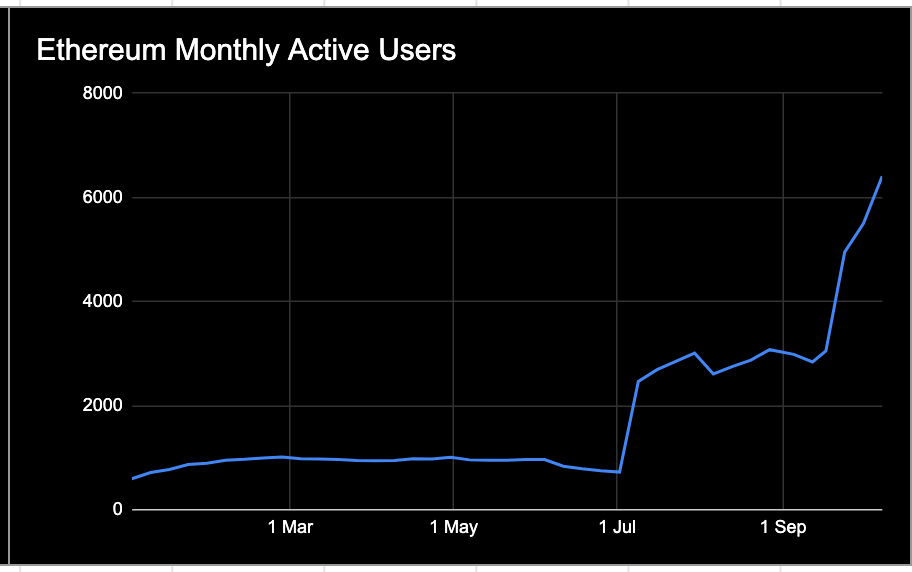 Source: StateoftheDapps
Strong user growth is also apparent from the marked increase in Axie holders and traders. Since July, unique all-time Axie holders and users of the in-house NFT marketplace have doubled. It was interesting to see this growth spike happen during a period of elevated gas fees. This anomaly suggests that benefits-focused products can overcome high fees and onboarding barriers. That said, we are hard at work on Ronin, an application-specific Ethereum sidechain for the Axie ecosystem which will be a crucial element in the pursuit of true hyper-growth.

Source: Nansen
From September 13th to October 13th, the Axie NFT marketplace processed 3931.64 ETH volume (~$1.5m USD) as compared to 462.36 ETH volume during the prior one month period. This represented an 850% monthly increase in volume, spurred by increased interest in Mystic and Origin Axies. The marketplace contract was interacted with by 3,540 unique addresses, an increase of 185.4% over the prior month. The Axie marketplace has a 4.25% fee, translating into a revenue of 167.09 ETH. In the future, marketplace fees will go to a community pool governed by the yet to be released Axie governance token. 

Source: Nansen
Uniswap liquidity for Small Love Potions (SLP) increased by 299% between September 12th to October 12th. SLP, an in-game potion that can be burned to breed new Axies, has provided a source of income for players in developing economies. We believe in the near future game economies may be assessed by the level of AMM liquidity around tokens that can be earned by playing, turning liquidity provisioning into a form of growth marketing.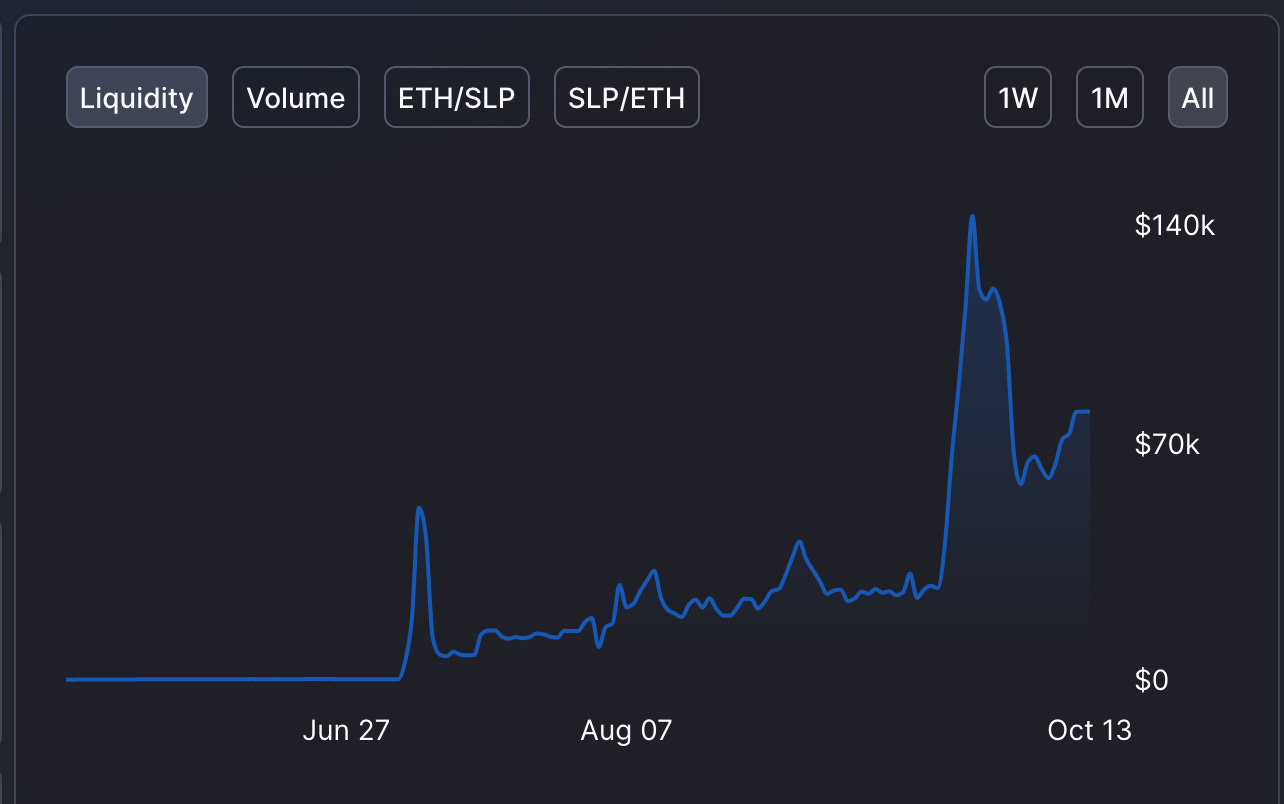 Source: Uniswap Info
---
③ Rarible
Contributor: 

Alex Salnikov

, Co-founder & Product Lead at 

Rarible
Along with the rise in popularity of DeFi in the last few months, there has also been increased interest in NFTs, or Non-Fungible Tokens. Throughout the recent rise in popularity of NFT platforms, Rarible has maintained a significant portion of market share (USD) after its v2 contract upgrade.

Rarible sales (USD) in September and October have dwarfed other NFT platforms.

As trading volumes on Rarible rapidly increase, there is an associated increase in the rate of new NFT tokens being minted.

Turning to Google Analytics data for the Rarible website, there has been a significant increase in the number of interactions with the platform over the last two months. From September 1st to October 13th, daily new users increased by a factor of 6.5 while daily overall users increased by a factor of 5.3.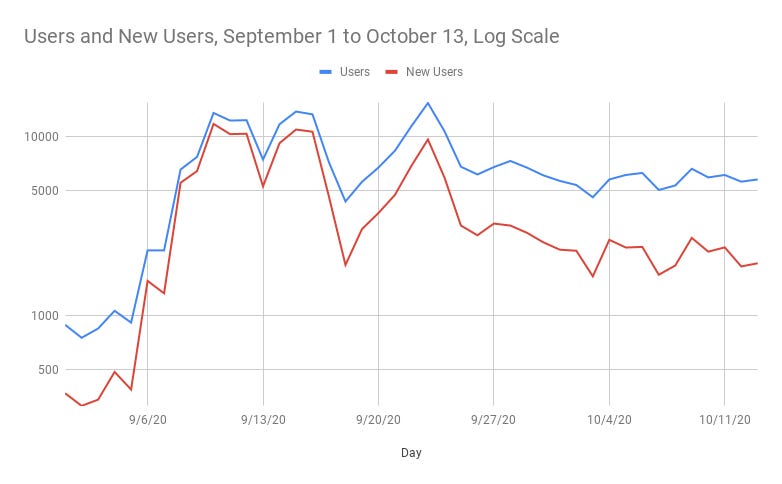 Source: Google Analytics
Although growth has been driven by new users, there has been an associated increase in the number of users retained for two weeks, increasing by a factor of 5.8 from September 1st to October 14th: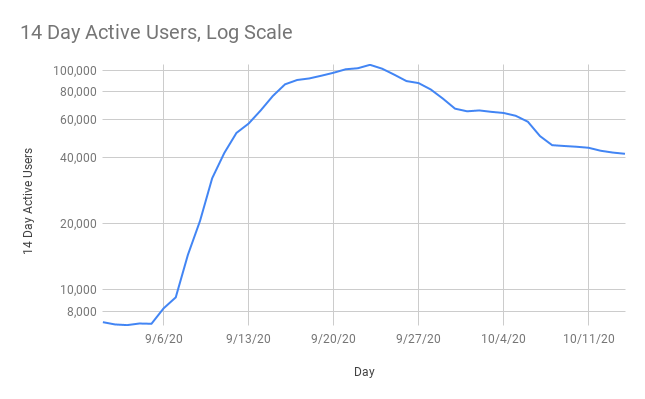 Source: Google Analytics
---