Discover more from OurNetwork - Crypto, NFT, DeFi, & Web3 Analytics
The #1 Crypto Analytics Newsletter & Community.
Over 28,000 subscribers
Our Network: Issue #35 (Part 2)
Coverage on DEX.
④ Kyber
Contributor:

Deniz Omer

, Head of Ecosystem Growth at Kyber
Six weeks into its release the KyberDAO has taken its place amongst the most actively participated governance mechanisms currently deployed on Ethereum. With almost a third of all circulating KNC supply staked in the KyberDAO and over 2,500 addresses voting in the first epoch it's been a promising start to see such high levels of interest shown in governing Kyber's future.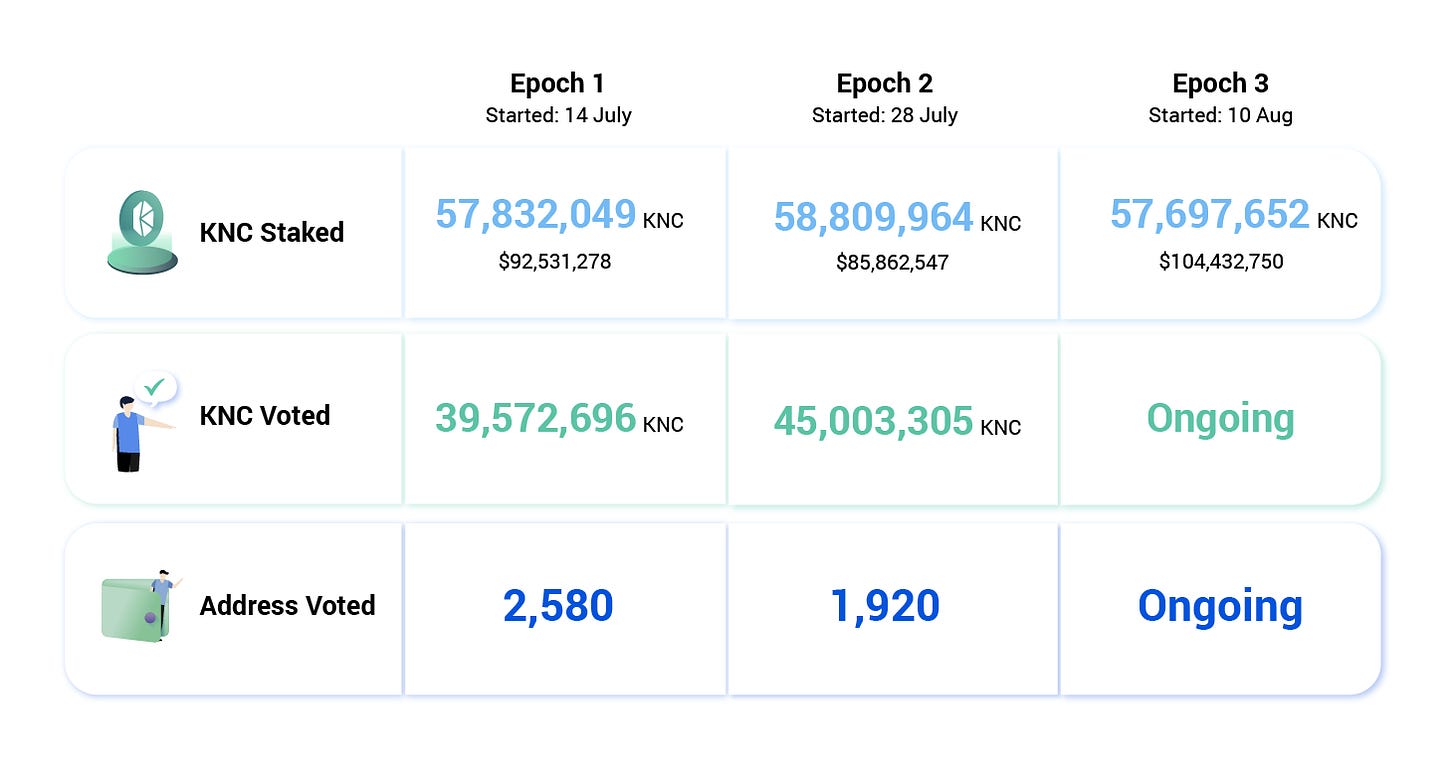 Although gas prices have risen to record high levels on the Ethereum network, this hasn't slowed Kyber's growth as July saw it post another month of all time high new addresses (proxy for new users), unique addresses, and volumes. Its $275M monthly volume in July is equivalent to the cumulative volume over its first 18 months of mainnet deployment while August is on track to exceed July's volume. June to July also saw the largest jump in new users as the DeFi narrative keeps expanding and bringing in new people to the space.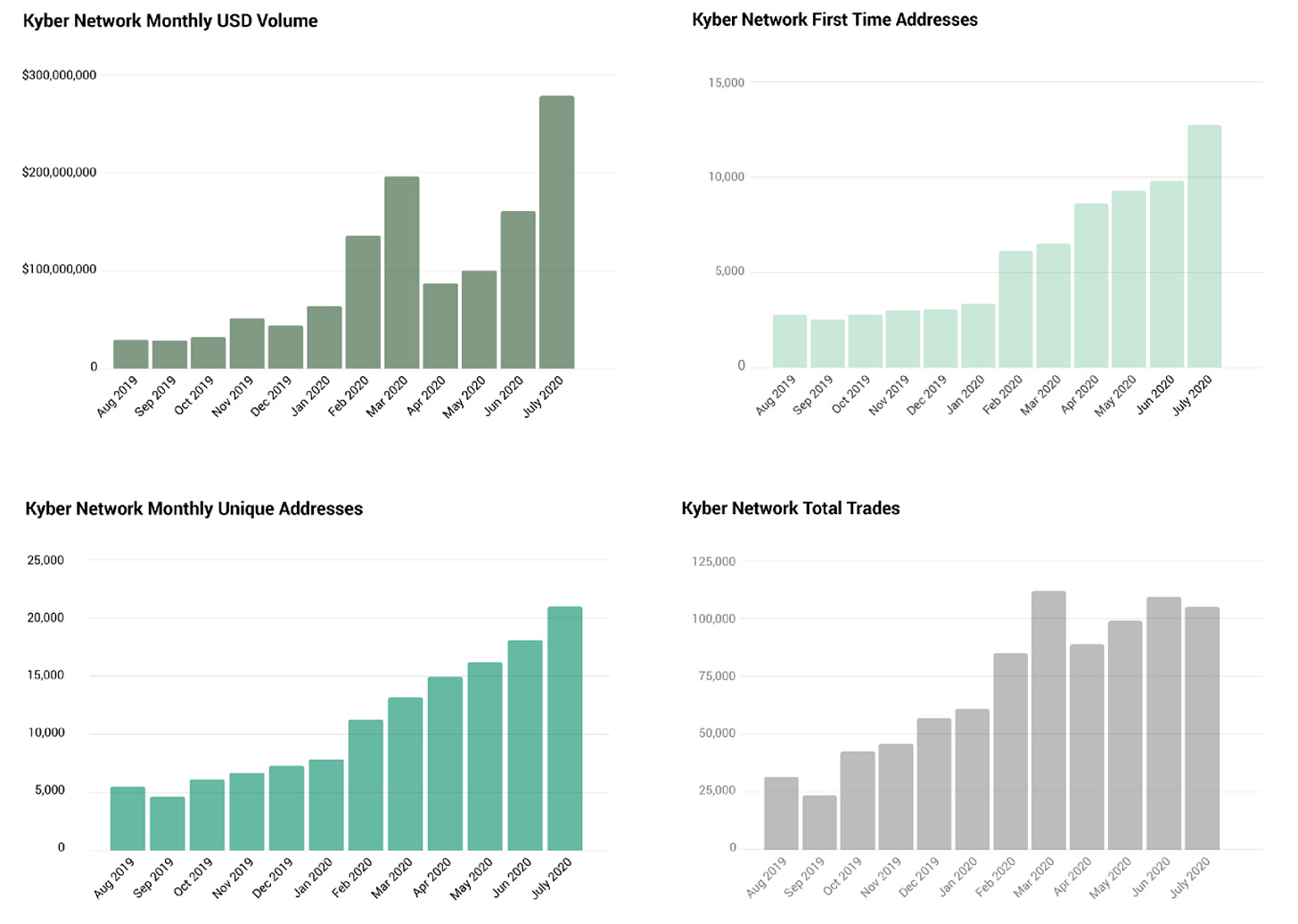 For the first time since mainnet launch, KyberSwap.com was not the largest consumer of Kyber's liquidity as 1inch.exchange surpassed it with $63M volume in July compared to KyberSwap's $60M and it's been impressive to watch 1inch.exchange's growth journey since their beginnings at EthNY. Adjusting to include KyberSwap iOS and Android volumes as part of KyberSwap, KyberSwap edges 1inch with $73M volume.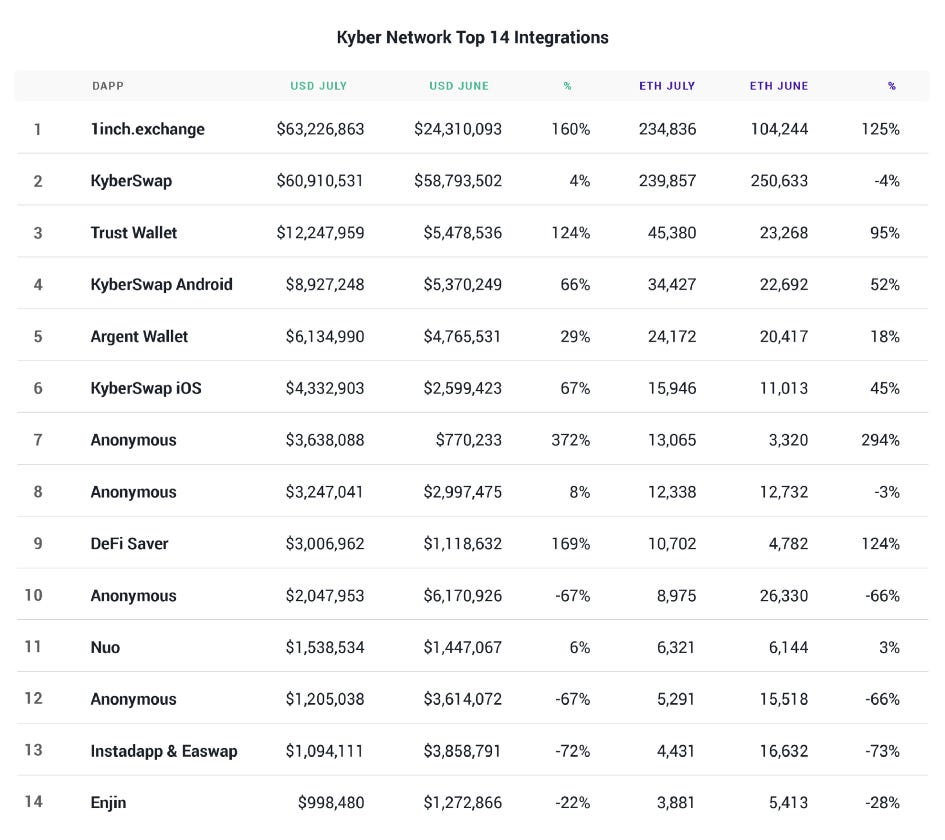 With volumes at all time highs it is unsurprising liquidity reserves on Kyber have had a bumper July with almost all reserves increasing their volumes significantly. It's interesting to note that the Uniswap DEX bridge saw the highest volume increase with a 188% month-on-month increase and this is partly due to an increase in high gas fees impacting it relatively less compared to other reserve types.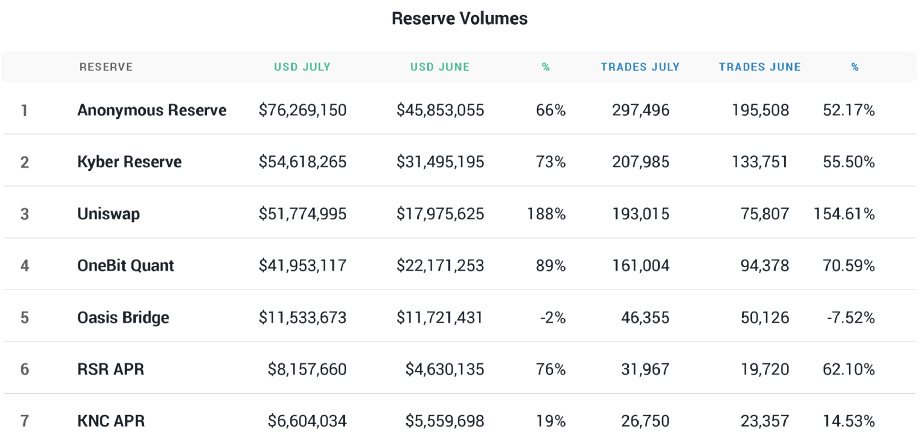 ---
About the editor: 

Spencer Noon

 🕛 is Head of Investments at 

DTC Capital

.